Thank you to everyone who helped to make the Food Drive a huge success!!!
We are over the roof with excitement, bringing you our final numbers for the 2013 Holiday Food Drive! Because of YOUR generous donations, we not only went over our last year's goal (the second week!), but you helped us go above and beyond what we had ever expected and we broke the thermometer!! Your efforts, alongside the match from Kevin and Natalie, put our 2013 Holiday Food Drive total at $11,100!!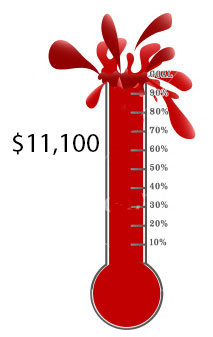 With the $11,100 we raised, we were able to purchase 121 Food Baskets! Each food basket feeds a family of four, three meals a day for one week! Along with the $11,100, we also brought in 52 lbs of food (that's the weight of a second grade child!)
We cannot express with words how thankful we are to our clients and the community for helping make the 2013 Holiday Food Drive a major success!!
We are so proud to be a part of this community and can't wait to see what we can accomplish in 2014.
Thank you!!
Kevin, Natalie, Loni, Shelley, Lisa and Jacklyn